David Knight (AFY)
Why is doubt easy, and Faith so difficult?
Why is doubt easy, and Faith so difficult?
Upon your rebirth to the earth-plane (to embark on the journey called 'life')… it appears you were blissfully unaware of what the future held for you. However, on a Soul level, you'd know exactly what you need to experience and when  … together with a simple desire to share the love in your heart.
So, if this is the case, why do our days, weeks, months and years often feel so traumatic and stressful? Perhaps we just need to understand that it's not in our true nature to fear, but how do we know this? Well, through self-realization we remember who and what we are … divinity in the form of 'man'. Only then can we stop doubting the true purpose of the path we tread … and move forward in the knowledge we ought to trust in God and have faith that we are loved and all is as it should be.
Enjoy the post below and have a great week everyone. God bless! AscensionForYou
cpratt on VisualHunt / CC BY-SA
"In truth, you can wash away your ills and concerns in an instant, but you would not learn or grow. Upon a Soul level, mortal man cannot achieve or alleviate their karmic imbalance this way, so faith is the power to guide and carry you throughout 'life', and its seemingly impossible burdens of work and family – and one's general well-being within society. However, many religions from scores of nations use this gift without discernment, and then faith resembles a byword or phrase to indoctrinate hearts and minds.
Please believe me and so believe in yourself, because true faith in love and light is so magnificent, powerful, beautiful and amazing, and has no bounds. 'Faith can move mountains' is a saying known to many, but how deep lays this truth, buried inside your hearts over the centuries and aeons of time?
My message, from this day forth, is for you to dig deep into your spiritual core, to grasp and behold this golden nugget. Keep its truth and power close to you each minute of every day. It will never let you down, for as you search and pray, and through your actions, words, and deeds of love, I will polish and smooth the rough edges of your Soul's experiences.
So please have faith in me. Never doubt me, for I do not place doubt in you. My strength will be your strength. My love is your love, and my light is your light. You will shine eternally within me, and your divinity shall remain forever. Show all whom you meet the truth inside you, and become a guiding hand to those who doubt or fear, living without faith, even in themselves. Amen." 
PS.  Faith is to believe what you do not see; the reward of this faith is to see what you believe – St Augustine.
(Please share this post, and if you have any thoughts or comments  …  feel welcome to share them with us in the comments section below,  or on our facebook page.  Thank you!)
  xxxxxxxxxxxxxxxxxxxxxxxxxxxxxxxxxxxxxxxxxxxxxxxxxxxxxxxxxxxxxxxxxxxxxxxxxxxxxxxxxxxxxxx
May this book be your friend and guide … upon your journey called 'life'.
I am I: The In-Dweller of Your Heart  'Collection'
In a process known as 'inner-dictation', God's wisdom and love are transcribed through and from the heart, to help us rediscover who and what we are, and why we exist too. As such, these 'lessons', guidelines and principles will resonate inside your Soul, and remove the veil of death, fear and anxiety to provide a clearer vision and purpose. Please be assured, during one's sojourn, you are able to find your own path towards self-realization and become liberated into eternal bliss and peace.
A 492-page paperback book now available at
and the eBook in various formats at Smashwords and Kindle
"OPEN YOUR HEART BASK IN THE GLORY OF GOD"
      xxxxxxxxxxxxxxxxxxxxxxxxxxxxxxxxxxxxxxxxxxxxxxxxxxxxxxxxxxxxxxxxxxxxxxxxxxxxxxxxxxxxxxxxxxxxxxxxxxxxxxxxxx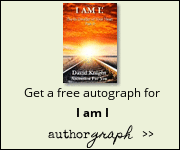 I will continue to post extracts from our books, which I hope you will find informative and uplifting. They aim to encourage you to become the best person, human being and Soul you can be! Remember, parts 1 and 2 and 3 have all been collated with and through 'inner-dictation' from my speaking heart to yours … so please enjoy!
 Facebook fan page, … http://www.facebook.com/pages/AscensionForYou-Spiritual-Guidance-and%20Education/147338671945241
Would you like to see more articles like this? Please subscribe to this blog and get each new post delivered to your email or feed reader.
For more information about AscensionForYou please visit  http://AscensionForYou.co.uk/blog
Copyright © 2017 by DPK Publishing. All rights reserved.
May you keep shining every day. God bless you all, Dave -AscensionForYou- Knight.
#httpAscensionForYoucoukblog #IamITheInDwellerofyourHeartTheCollection #SpiritualGuidanceandEducation