David Knight (AFY)
This New Year doesn't have to be a leap into the unknown!
Hello, everyone!
As the New Year approaches, we wish to share a few lines from many moons ago.
May words of wisdom inspire and encourage and support you to keep positive and true.
Remember, this New Year doesn't have to be a leap into the unknown … so make your dreams and goals come to fruition during 2018!
God bless.
AscensionForYou
This New Year doesn't have to be a leap into the unknown!
Photo by  Mohamed_ hassan@pixabay
"I realize you have gone through many trials, test or tribulations this year, and felt you had almost lost the plot. Sometimes, you imagined you were at the end of your tether, as circumstances or 'fate' seemed to transpire against you. As such, your tears may have fallen along the way.
But you are strong … as I have made you this way. Please realise that every person retains the power to overcome so much heartache and pain – be it physical, emotional or mental – because of the love within and around you all. As such, you do not need to fear when you know 'I am' nearer than near.
And 'Life' goes on … no matter how far you think you can fall. There is always a way forward. Remember, inside your heart is a ray of light. You can see and feel what you want to, as everything around you is a reflection and outcome of your own thoughts and actions.
So, as this current 'year' and time 'period'  draws to a close, (at least to the mind), know each day can be a new beginning, and an opportunity to shine and be the person and Soul you were 'reborn' to be. Limitations are only imaginary – as you are free to express all the love from inside that you can.
If 2017 became a struggle … let any disappointments and heartache now fall by the wayside, with the shadow of doubt stretching and disappearing behind you. Then, let the future be written with hope and passion, enabling both you and everyone you meet to become uplifted and carried forward towards the eternal light of truth.
Destiny awaits you … so why not make 2018 a brighter, kinder and more beautiful  … not only for yourself and your family but for the world around you too? Amen."
Photo by  PIRO4D @pixabayPS.- Remember, it only takes a leap of faith!
(Please share this post, and if you have any thoughts or comments  …  feel welcome to share them with us in the comments section below,  or on our facebook page.  Thank you!)
  xxxxxxxxxxxxxxxxxxxxxxxxxxxxxxxxxxxxxxxxxxxxxxxxxxxxxxxxxxxxxxxxxxxxxxxxxxxxxxxxxxxxxxx
May this book be your friend and guide … upon your journey called 'life'.
I am I: The In-Dweller of Your Heart  'Collection'
In a process known as 'inner-dictation', God's wisdom and love are transcribed through and from the heart, to help us rediscover who and what we are, and why we exist too. As such, these 'lessons', guidelines and principles will resonate inside your Soul, and remove the veil of death, fear and anxiety to provide a clearer vision and purpose. Please be assured, during one's sojourn, you are able to find your own path towards self-realization and become liberated into eternal bliss and peace.
A 492-page paperback book now available at
and the eBook in various formats at Smashwords and Kindle
"OPEN YOUR HEART BASK IN THE GLORY OF GOD"
      xxxxxxxxxxxxxxxxxxxxxxxxxxxxxxxxxxxxxxxxxxxxxxxxxxxxxxxxxxxxxxxxxxxxxxxxxxxxxxxxxxxxxxxxxxxxxxxxxxxxxxxxxx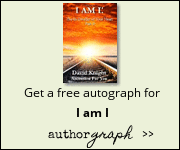 I will continue to post extracts from our books, which I hope you will find informative and uplifting. They aim to encourage you to become the best person, human being and Soul you can be! Remember, parts 1 and 2 and 3 have all been collated with and through 'inner-dictation' from my speaking heart to yours … so please enjoy!
 Facebook fan page, … http://www.facebook.com/pages/AscensionForYou-Spiritual-Guidance-and%20Education/147338671945241
Would you like to see more articles like this? Please subscribe to this blog and get each new post delivered to your email or feed reader.
For more information about AscensionForYou please visit  http://AscensionForYou.co.uk/blog
Copyright © 2017 by DPK Publishing. All rights reserved.
May you keep shining every day. God bless you all, Dave -AscensionForYou- Knight.
#httpAscensionForYoucoukblog #IamITheInDwellerofyourHeartTheCollection #SpiritualGuidanceandEducation