David Knight (AFY)
Tempted by the senses are we?
  Hi everyone. How did last week go? I hope you had a productive week, and continue to look forward with positive thoughts and feelings.  
One of the ways we can do this (and at the same time overcome one of our greatest challenges in life),  is to learn to cope with the roller-coaster of emotions we experience through our senses. In today's post,  we are given a  short, sharp reminder to help alleviate our woes, and also strengthen our resolve when making choices and decisions affecting our well-being … fascinating stuff actually!  
Keep smiling, and let nothing grind you down! God Bless.  
Tempted by the senses are we? 
'For those who cannot see, would you think blindness is a so-called disability and hindrance to everyday life? Someone who can bear witness to a beautiful flower, rainbow and mountain, or the brightness of the Sun shimmering upon a lake may say it is, but the blind 'man' is not tempted by what his mind 'sees' and thinks he needs.  Understand, there is no desire, no wanting or wishing. Compare the two scenarios, and think who is truly free.  
Prejudice and human frailty assume those without one (or more) of the senses are imperfect, or even useless … but do not succumb to these thoughts or feelings; for only on the physical plane do you encounter such traits. Upon all other levels of energy and vibration, their influence is not so apparent or even required, because self-realisation brings wholeness, and verifies one is complete and eternal.
Please realise, the body is a mask, hiding what lies beneath. Only when your true abilities as a Soul 'shine', can the exterior be peeled away. This will reveal true beauty and peace, and therefore become easier to recognise who and what and why you are Divine. In addition, try to remember it is you who hold creativity in your own hands and thoughts – and therefore have the power to create your own future, if you just believe. Amen.'
    PS.  If you constantly think something 'bad' is going to happen … it probably will! So, release fear and negativity and try to think 'happy' thoughts!
(If you have any thoughts or comments about this post … please feel welcome to share them with us in the comments section below,  or our facebook page . Thank you!)
  xxxxxxxxxxxxxxxxxxxxxxxxxxxxxxxxxxxxxxxxxxxxxxxxxxxxxxxxxxxxxxxxxxxxxxxxxxxxxxxxxxxxxxx
May this book be your friend and guide … upon your journey called 'life'.
I am I: The In-Dweller of Your Heart  'Collection'
In a process known as 'inner-dictation', God's wisdom and love is transcribed through and from the heart, to help us rediscover who and what we are, and why we exist too. As such, these 'lessons', guidelines and principles will resonate inside your Soul, and remove the veil of death, fear and anxiety to provide a clearer vision and purpose. Please be assured, during one's sojourn, you are able to find your own path towards self-realization, and become liberated into eternal bliss and peace.
A 492 page paperback book now available at
and the eBook in various formats at Smashwords and Kindle
"OPEN YOUR HEART BASK IN THE GLORY OF GOD"
                       xxxxxxxxxxxxxxxxxxxxxxxxxxxxxxxxxxxxxxxxxxxxxxxxxxxxxxxxxxxxxxxxxxxxxxxxxxxxxxxxxxxxxxxxxxxxxxxxxxxxxxxxxxxxxxxxxxxxxxxxxxxxxxxxxxxxxxxxxxxxxx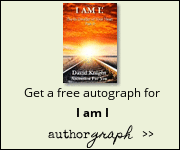 I will continue to post extracts from our books, which I hope you will find informative and uplifting. They aim to encourage you to become the best person, human being and Soul you can be! Remember, parts 1 and 2 and 3 have all been collated with and through 'inner-dictation' from my speaking heart to yours … so please enjoy!
 Facebook fan page, … http://www.facebook.com/pages/AscensionForYou-Spiritual-Guidance-and%20Education/147338671945241
Would you like to see more articles like this? Pleas subscribe to this blog and get each new post delivered to your email or feed reader.
For more information about AscensionForYou please visit  http://AscensionForYou.co.uk/blog
Copyright © 2017 by DPK Publishing. All rights reserved.
May you keep shining each and every day. God bless you all, Dave -AscensionForYou- Knight.
#httpAscensionForYoucoukblog #IamITheInDwellerofyourHeartTheCollection #SpiritualGuidanceandEducation