David Knight (AFY)
A solution for tense and 'frosty' relations between the religions of our world – A
 Hello to one and all! This morning we all rise to another 'frosty' morn … both on the ground and continued tensions between the s0-called 'religion's' of this world.  As the media continue to debate upon different solutions, today's extract aims to shine the light … from, through and to all our hearts. 
"Unlike a ripple upon calm waters, love's action transmutes way beyond the pebble thrown into the pool of life. One must understand that there are no boundaries, which cannot be broken or removed. Differences of colour, creed or religion are all on the surface, therefore 'man' needs to dig deep to find the true connection of all.
Sometimes, a lot of effort is required to do so, like digging through frosty ground. However, when truth is sought with both conviction and faith, you will break through to find softer earth and hearts. There, deep within, the soil (and Soul) is warm, and the cold cannot penetrate any further. Likewise, even those with hardened exteriors have love waiting to be discovered and shared.
Remember, love can (and will), melt away any last remnants of distrust and confusion, but you all have to be ready and willing to become more open to the truth. Furthermore, the written 'word' has been handed and passed down throughout earth's history in many tongues, sacred texts, and signs … to help alleviate tension between 'man' and all the various religions of the world. Please become aware of love's echoes throughout time, space, and all Creation, (and which resonates within every heart), for it is part of the greatest wisdom you can know. Amen."
xxxxxxxxxxxxxxxxxxxxxxxxxxxxxxxxxxxxxxxxxxxxxxxxxxxx
I am I: The In-Dweller of Your Heart  (Part III).
Paperback and eBook via  Amazon.com  / Kindle
Paperback and eBook via  Amazon.co.uk / kindle
Other available reading formats via  Smashwords
This third installment, from I am I: The In-Dweller of your Heart series, written with, from and through 'Spirit' … will uplift, inspire and guide your heart and soul towards self-realization, enabling you to reach your eternal goal in this lifetime. Each 'lesson' aims to help you, not only to find your own truth 'within', but also enrich your life with joy and love, to finally remember who you are, why your here, and where you are going to.
                       xxxxxxxxxxxxxxxxxxxxxxxxxxxxxxxxxxxxxxxxxxxxxxxxxxxxx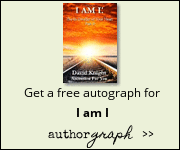 I will continue to post extracts from them our books, which I hope you will find informative, uplifting and encourage you to become the best person, human being and Soul you can be! Remember, parts 1 and 2 and 3 have all been collated with and through 'inner-dictation' from my speaking heart to yours … please enjoy!
 Facebook fan page, … http://www.facebook.com/pages/AscensionForYou-Spiritual-Guidance-and%20Education/147338671945241
Would you like to see more articles like this? Subscribe to this blog and get each new post delivered to your email or feed reader.
For more information about AscensionForYou please visit  http://AscensionForYou.co.uk/blog
Copyright © 2015 by DPK Publishing. All rights reserved.
May you keep shining each and every day. God bless you all, Dave -AscensionForYou- Knight.
#ExtractfromIamITheInDwellerofyourHeartPartII #httpAscensionForYoucoukblog #SpiritualGuidanceandEducation